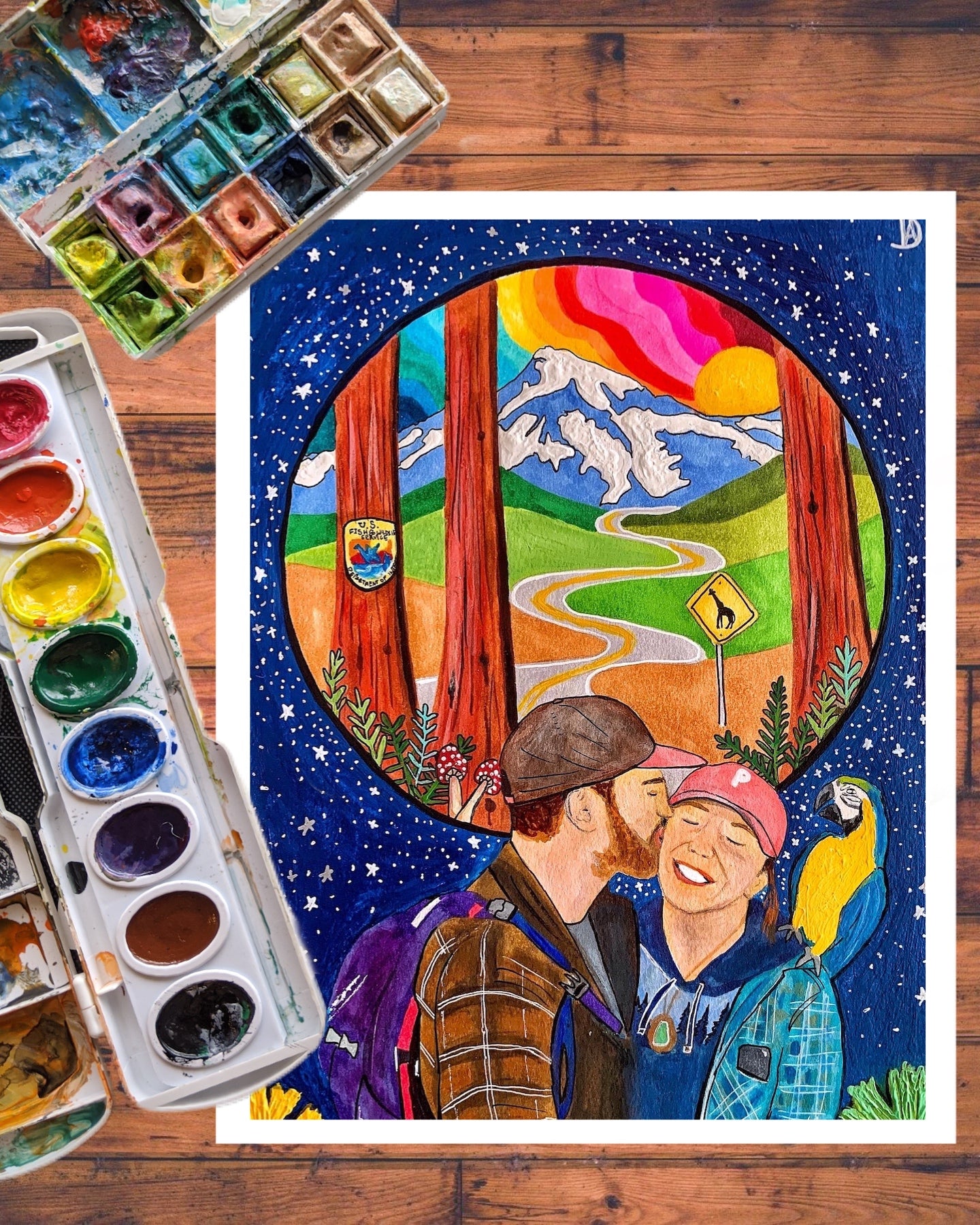 Let me transform your trail memories into an abstract illustration of your journey!
Commissions will resume in the Fall of 2023. Please fill out the form below to be added to my waitlist. Custom pieces start at ~$3,600 for an 11" x 15" original painting.
Commission FAQ
Turnaround Time

As I shift directions to allow more time for personal projects, I will only take on ~1 commission per month. I am not taking on any new projects until the Summer 2023.

Turnaround time varies, but once I receive payment and start working on your piece you can expect a final product within 5-9 weeks max.

If you need the painting sooner I will do my best to accommodate your desired timeline.
Process

What I will need on your end:

1. A few photos to work from (feel free to send as many options as you'd like my way and I can help narrow it down)

2. Desired style of painting. Check out my commission gallery below for examples.

3. Desired size. 11" x 15" is my standard size, but custom sizing is possible upon request.

4. Personal details. I can include specific plants, animals and scenery. I want the piece to tell a story so feel free to tell me more about your adventure and what elements you'd like included. The larger the piece the more details can be added.

5. Your timeline. My turnaround time is ~5-8 weeks from when I start working on the piece. If you need the painting sooner please let me know and I will do my best to accommodate your requested timeline.

6. Lastly, I often film my creation process on my Instagram platform (@abstract.hikes). Please let me know if you're okay with your piece being shared in this capacity. If you'd prefer it to be private, or if it is a surprise gift, I will only share the process with you.
Materials

My paintings are original mixed-media illustrations. I use watercolor, gouache, acrylic, ink & illustrator markers on cold-pressed watercolor paper.

For an additional fee you can also request for a section of your painting to be collaged with maps.
Payment

I request a nonrefundable deposit of 50% of the total value of the painting before I start. The remaining 50% is due upon completion.

I will send you a link to pay via Venmo, Paypal or credit card.
Shipping

Shipping is included with the price of the painting. I ship USPS priority mail and can also ship internationally to most countries for no additional fee.

Tracking will be provided and the painting will be packed using recycled materials.
Revisions

It is very important to me that you're satisfied with the final painting. It is my hope that my art can be lifelong treasure that inspires adventure at all ages.

I share my process as I create so that you can have continual input as it comes to life. If you would like me to just "roll with it" that also works!

I am very flexible in my creative process and welcome feedback at all stages.

While I don't have concrete "rules" about revisions (and am happy to do a reasonable amount of them), I also expect my commissioners to trust my artistic vision and opinion in regards to the flow of the piece.
Copyright

* Please note that rights to reproduce the painting do NOT transfer with commissions.*

I retain all rights to make products using the digital version of the commissioned work, including, but not limited to: prints, stickers, apparel, postcards, magnets, ect
Logo Designs (currently paused)

I no longer am doing logo/design work for other brands. Feel free to send me a message in the form below if you would like to be notified if I resume this type of work.
Tattoo Design & Tokens

Please fill out the form below to be added to my commission waitlist for tattoo designs. All designs are hand painted and pricing starts at $400 for simple color designs. Pricing varies depending on complexity of design.

* Feel free to reach out to me if you would like to get a tattoo of one of my preexisting designs! For most of my designs I am okay with it being reproduced as a tattoo for no fee. If you feel inspired to send me a donation that is always welcomed!
"As a customer, the experience was 10/10 awesome! And the painting...you knocked it way out of the park. Thank you, thank you, thank you!!!
I can not recommend Alina highly enough! I sent her the photo electronically, then she asked me a handful of questions and ran with it. She checked in a few times with snapshots of progress that confirmed she knew exactly what I wanted. Soon after, I had a painting, and I did not request a single change. It was perfect!
If you want a rad piece of custom art, reach out to Alina"
- Philip Crader (Founder Craderson Carriers)
Vertical Commission Examples
"Alina captured the magic of my thru-hike in a more beautiful and colorful way than I could have ever imagined.
She was easy to work with right from the start and came up with multiple creative ideas for my commission. Her ability to tell a story with the paintbrush brought the characters, memories, and humor of my adventure to life in a final piece that will be a lifelong treasure.
In addition to her imagination and talent, she had such a fast turn-around time and delivered a high-quality digital version of the painting, in addition to mailing me the original. The whole experience, from the initial brainstorming, progress updates, and final product was a true delight. I can't recommend her enough - she will exceed your expectations!"
- Caroline "Amazon" Iantosca " (Appalachian Trail Class of 2017)
Horizontal Commission Examples